For dinner, I decided to make Yakisoba, a Japanese style fried noodles that includes vegetables… and I recently found out, can include meat. Which is totally perfecto because I was given a package of HORMEL Flame Seared Ham that I had no idea what I was supposed to do with… because I don't eat ham. Lol.
Of course, you can opt for the instant yakisoba noodles, but I prefer the packaged "fresh" noodles that you cook because you can add whatever extra ingredients you want and season it to suit your taste!
There are two toppings we use for yakisoba.
One is shredded Nori (… or dried seaweed. You can get this in the Asian market… and some local supermarkets now carry this in the Ethnic aisle!)…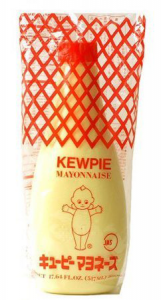 … the other is mayonnaise!
"Ewww! Mayo on fried noodles? Have you gone totally kray kray?" Why, YES! (No, not the kray part… the mayo!) But we're not talking "regular" sandwich/tuna salad mayonnaise we usually buy at the local supermarket. I use the Japanese Kewpie mayonnaise which is made with rice vinegar instead of distilled vinegar. Sooo yummy!
Ok, so here's how to make this super easy and yummy dish. Chop up some cabbage, onions, carrots, and ham and cook them in oil in a large pan over medium high heat.
Once the veggies are soft, lowere the heat down to medium and add the black pepper and yakisoba noodles on top.
Then add all contents of the Yakisoba Sauce.
Mix them all together until the sauce powder is completely dissolved and noodles are evenly coated.
Top the finished yakisoba noodles with shredded nori and Kewpie mayo! This stuff is soooo YUMMEH!!! Enjoy!!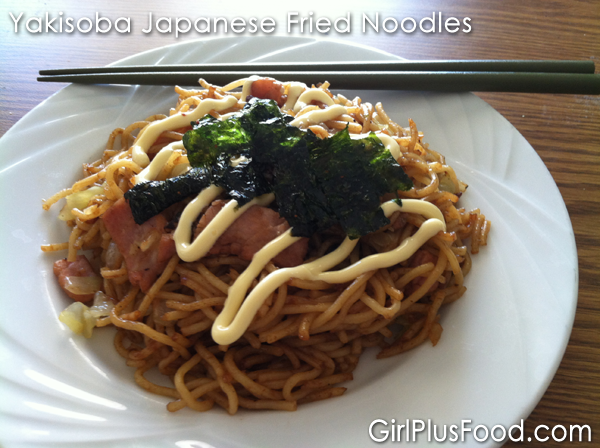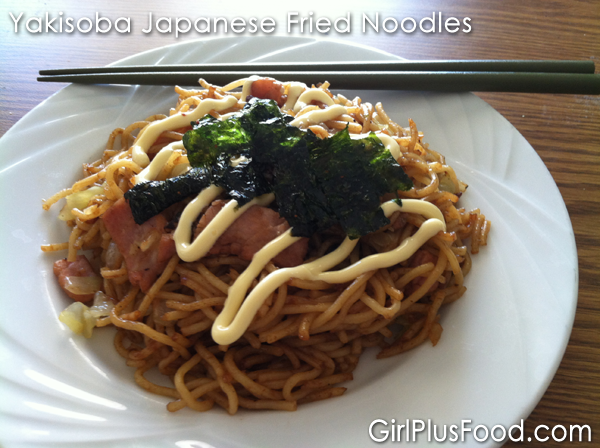 Ingredients
1/2

onion

1

carrot

4

cabbage leaves

1

cup

HORMEL Flame Seared Ham

or your choice of meat and/or seafood, chopped

2

Tbsp

oil

Fresh ground black pepper

1

pkg Yakisoba Noodles

Seasonings included in the yakisoba package

Toppings

optional

Shredded Nori

dried seaweed

Kewpie Mayonnaise
Instructions
Cut vegetables and meat.

Heat oil in large pan on medium high heat and cook the protein (meat/seafood)

Add onion, carrots, cabbage and cook until they're soft. While cooking the vegetables, remove yakisoba noodles from the package and run under hot water to separate the noodles.

Lower the heat to medium and add the black pepper, noodles, and yakisoba sauce. Mix all the ingredients together, making sure not to burn the ingredients in the pan.

Serve on a plate and top noodles with shredded nori and Kewpie Mayonnaise. Serve hot!
Pin it
Share it
Tweet it
I've partnered with Hormel Foods as part of their Extended Family Blogger Program. While Hormel Foods provides me material and necessary resources to complete various activities, all statements and sentiment in GirlPlusFood.com are my own!