Inari is fried bean curd (tofu) cooked in soy sauce, sugar, mirin and water. It's also called oinari-san or inarizushi and they're filled with sushi rice. If you've eaten at a Japanese restaurant or sushi place, you've probably seen these before…
OMG I loved these when I was younger! The fried tofu is so juicy & sweet… and the salty sushi rice kicked up the flavor to the next level. Yum, yum, and yummm.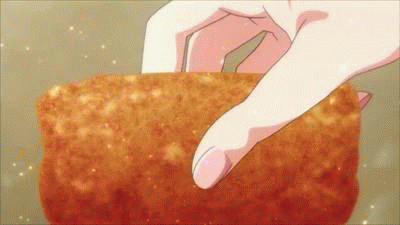 So the reason why I thought about making some oinari-san was because I
spotted this package of Inari Age (fried tofu) at the Asian supermarket. I was like, "Whoa!"… then one thing led to another and he ended up coming home with me.
The recipe I adapted this from used the canned inari… Same company, same product, just different packaging. Oh, and the inari age I picked up included a packet of powdered vinegar that you use to make your plain white rice into sushi rice!
A package of 12 inari pouches cost about $4.50.
Also, the original recipe called for cheese for the "whites" of the eyes, but sumthin bout fried tofu, sushi rice, nori (dried seaweed), and… cheese… didn't sit too well with me so I substituted it with kamaboko (fish cakes… just like this pretty pink thing below).
I didn't have a hole puncher or giant bubble tea straws to make cutting out these shapes easier like the instructions suggested, so I used scissors… omg what a pain in the bum!! I've always admired all the creative bento food bloggers and wanted to give it a shot. Now I know why I've never tried… I just don't have the patience for this.
But they turned out pretty cute, eh? And gosh, are they oh, sooo tasty!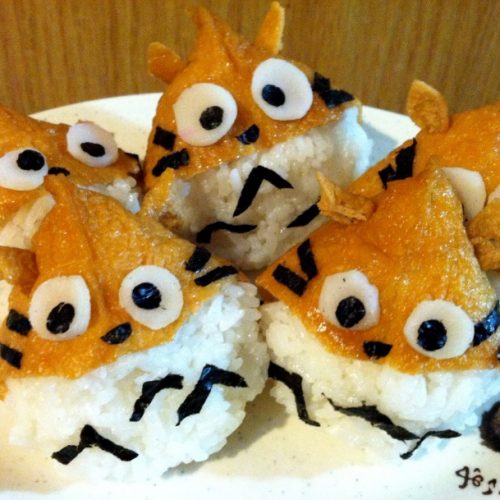 Ingredients
Freshly cooked white rice

You'll use about 3 TBS of rice for each inari pocket. I used 3 cups of cooked rice.

Inari pouches. The package I got contained 12

Nori

dried seaweed used for eyes, nose, and whiskers

Kamaboko

for the "whites" of the eyes
Pin it
Share it
Tweet it