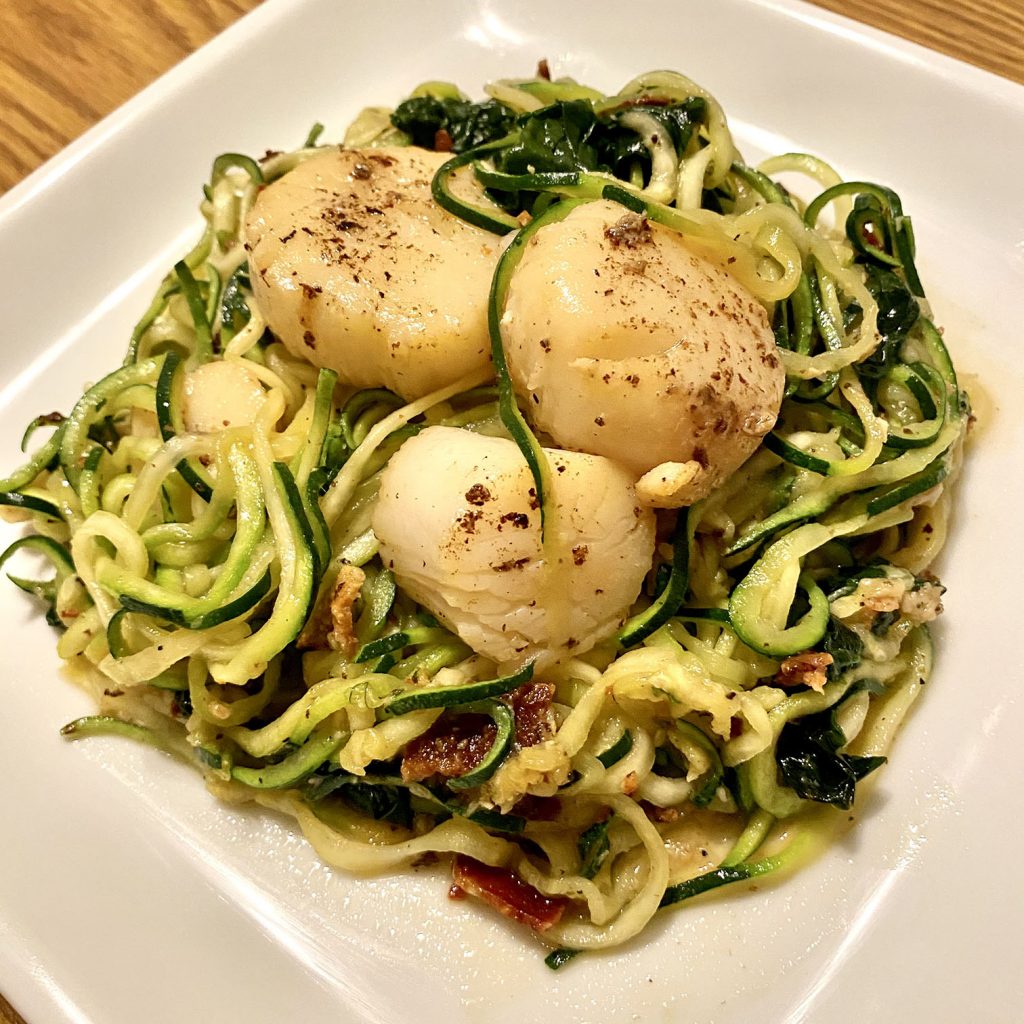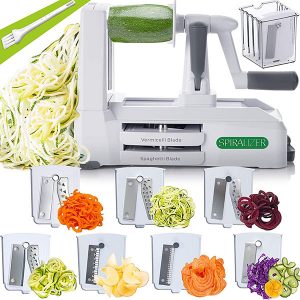 I used my 7-Blade Spiralizer (affiliate) to make these zucchini noodles happen!
As much as we love our veggies, I've never considered getting a vegetable spiralizer… *gasp!*
Ok, so zucchini noodles and curly fries does sound fun… but would buying yet another kitchen gadget be worth it? Keep in mind… single mom with a kid graduating from college soon… and starting med school. Gotta keep my spending in check!
But when I spotted this 7-Blade Spiralizer (affiliate) for under $30, I couldn't pass it up!
While I waited for my next-day delivery, I stocked up on zucchini (first time ever, buying this in my entire life!), sweet potatoes, yellow squash, daikon, and carrots to spiralize!
When it arrived, the first thing I threw on there was a zucchini… because srsly… the countless zucchini "zoodle" recipes available online.
And LOOKIE! Omg, so much fun!!!
It took only a minute to transform one zucchini into these perfect noodles! 😀
And being that I've never tasted a freakin zucchini before, I thought adding bacon, spinach, garlic, and juicy scallops would guarantee a winner, even for my first try.
Ready?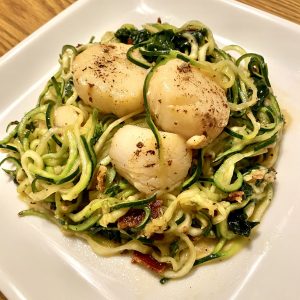 Ingredients
4

strips

bacon

1

head

garlic

roasted

2

medium

zucchinis

spiralized into spaghetti noodles

1/2

cup

spinach

6

scallops

salt and pepper to taste
Instructions
Place a large pan over medium heat. Cook bacon until desired crispiness. Without draining bacon fat, transfer cooked bacon from pan to paper towel.

Sprinkle scallops with salt and pepper. Then in the same pan with bacon fat, cook scallops until firm and golden brown. Transfer to plate when finished.

Again, in the same pan, add whole garlic cloves and spinach and cook for about 2-3 minutes or until spinach is wilted.

Add zucchini noodles into pan with garlic and spinach and toss to cook, 2-3 minutes.

Divide the pasta into 2 bowls and top each with scallops and crumbled bacon.
Pin it
Share it
Tweet it