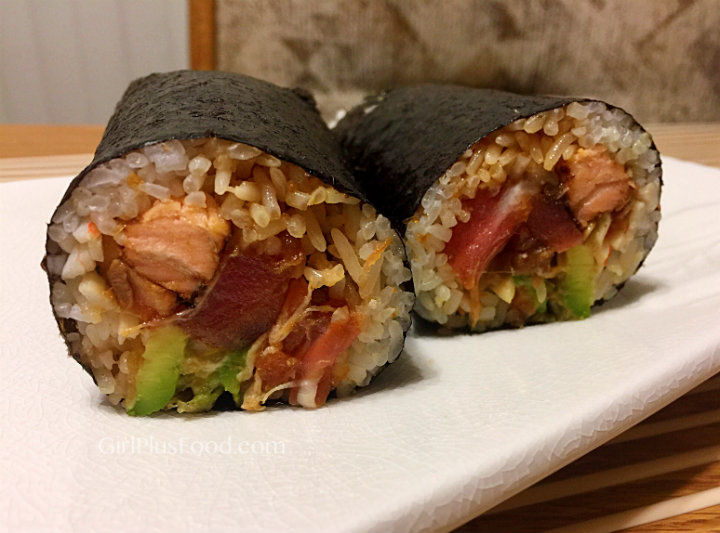 J and I were browsing through Yelp for new local places to check out, and found several "sushi burrito" restaurants. "What's a sushi burrito?", you ask? It's similar to the burrito we all know and love… but… this burrito is filled with rice, raw fish, some greens, and pretty much anything else you want in there… all rolled up in a sheet of nori.
Ok, so it's basically a giant sushi roll, but clearly, calling it a "sushi burrito" is waaay more fun! 🙂 Come to think of it, Ohhh! Ohhh! You can also think of it as a portable poke bowl that you can enjoy while you work, play video games, sweat it out on your elliptical, lay in bed…
Anyway, here's how to make your own: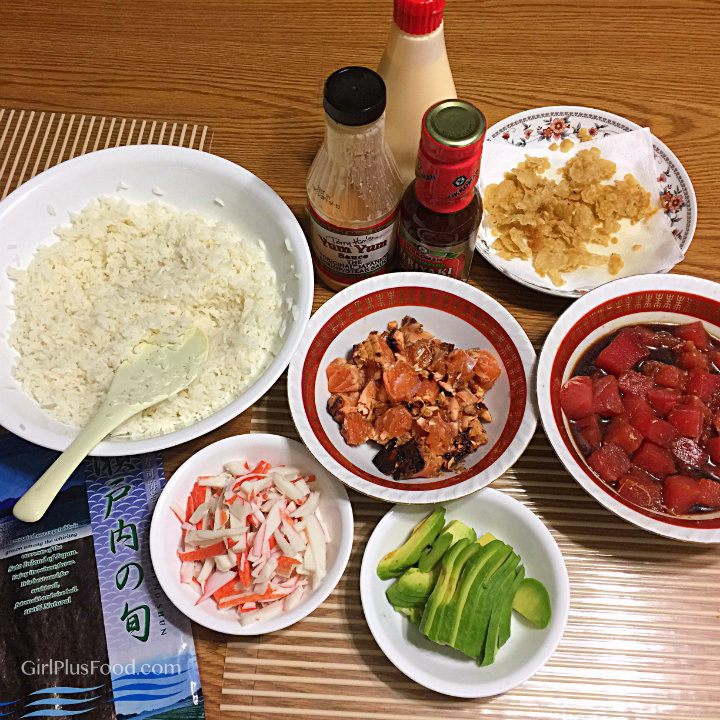 Ingredients:
Sushi Rice
6-8 sheets of nori
2 cups freshly cooked rice (sushi or short grain)
2 tablespoons rice vinegar
2 tablespoons sugar
1 teaspoon kosher salt
Ahi-Tuna
1 pound sashimi-grade Ahi tuna cut into 1/2 inch cubes
1/4 cup soy sauce
1 teaspoon rice vinegar
1 teaspoon sesame oil
1 teaspoon toasted sesame seeds
1 teaspoon sriracha (optional – for spicy tuna!)
Salmon
1 pound salmon
Additional Add-Ins
4 sticks imitation crab meat, chopped
2 avocados, sliced
Yum Yum sauce
Teriyaki sauce
Crispy tempura batter
Instructions:
Sushi Rice

Combine rice vinegar, sugar and salt in a small bowl and heat in microwave on high for 30 to 45 seconds.
Transfer rice into large mixing bowl and add vinegar mixture.
Fold thoroughly to combine and coat each grain of rice with the mixture.
Allow to cool to room temperature before using.

Ahi-Tuna

Cut Ahi into 1-inch cubes. Place in a large bowl.
Add soy sauce, rice wine vinegar, sesame oil, sesame seeds (and sriracha if making spicy tuna) into bowl with Ahi and mix well.
Cover and refrigerate for a minimum of 2 hours.

Salmon

Preheat the oven to 400°F.
Place the salmon on a parchment-lined baking sheet or oven-proof dish and toss with olive oil.
Bake for 10 minutes, or until just firm.
Remove from oven and let cool to room temperature.
Chop into bite-sized pieces.

Assembling the Sushi Burrito

Place nori sheet onto a sushi rolling mat. If you don't have one, you can use parchment paper like I did. Works just as well.
Dip fingers in water and spread sushi rice on the nori sheet leaving a 1/2 inch space on the side closest to you and a 1 inch space on the side away from you.
Add your fillings about one inch away from the bottom.
Roll sheet, applying pressure as you roll. Once you've almost finished, add a little extra squeeze on the overlap between the two seaweed layers to ensure that the burrito stays together. The overlap should be about one inch.(I watched this video like 15 times – AT LEAST – just to get an idea of how to do this… not even kidding. Once you get a hang of it tho, you'll be able to do it with your eyes closed. Okay not really, but you'll roll em with very little effort!)
To make the burrito more presentable, cut the ends so they are even. I'm not that fancy, so I just sliced it in half and showed you the pretty ends.

Tadaaa! Enjoy!