I first tried French Onion Fondue at a restaurant we recently checked out, and holy moly, I could've had that as my entire meal! Deliciousness! We looove French Onion Soup, so I have no idea why I didn't think of this myself! Thus began my mini-life-mission to be able to make it at home whenever we wanted!
Aaaand… Mission accomplished! #wootwoot!
Mmmm… Crusty slices of French bread dipped in hot, melty cheese and caramelized onions… you will LOOOVE this French Onion Fondue!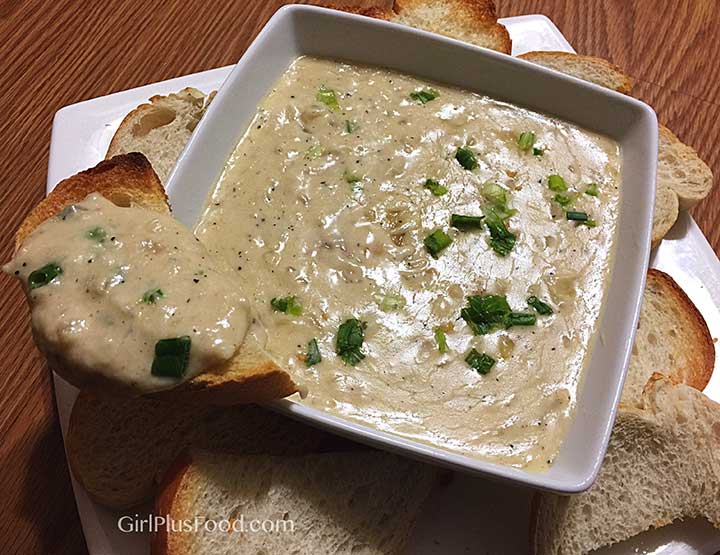 It's so simple to make… just cook the onions, then cook everything else together! Quick and easy… and sooooo yummmeh!!!
Enjoy!!! XOXO
French Onion Fondue!
Ingredients
1/4

c

unsalted butter

2

tbsps

unsalted butter

for sauteing onions

2

large onions

diced

1/2

pound

8oz Swiss cheese, grated

1/2

pound

8oz Gruyere cheese, grated

2

tbsps

flour

1

and 1/4 cup beef broth

1/4

cup

cooking sherry

1/2

tbsp

concentrated beef broth

1/2

tbsp

garlic pepper

French bread

toasted and sliced (or 1" cubed) for serving
Instructions
Melt 2 tbsps butter in medium-size sauté pan over medium heat.

Sauté onions until brown and caramelized, about 15–20 minutes.

Set aside.

Toss Swiss & Gruyere the cheese with flour in mixing bowl until evenly coated.

Set aside.

Combine beef broth, cooking sherry, and concentrated beef broth in a medium sauce pot over medium-low heat and bring to a slight simmer.

Whisk the cheese into the liquid in four or five batches. Wait for the cheese to melt before adding next batch of cheese. Don't let the mixture come to a boil.

When final batch has melted completely, remove pot from heat and stir in caramelized onions and garlic pepper.

Transfer mixture to a serving bowl or fondue pot

Serve with French bread (or whatever else you want to use.. potatoes, cauliflower, asparagus...)