As we were doing dishes after our breakfast this morning, I asked JRoc what he wanted for dinner.
"Fried chicken!" he exclaimed.
The thing is, I'm not a fan of cooking chicken. I've actually cooked chicken only once before in my life. So I thought maybe I'd pick up a bucket of KFC for the kid, when he added…
"How about some JFC?" (I swear, the child can read my mind… most likely for self preservation.)
Yes, JFC… Japanese Fried Chicken, or chicken karaage. I recently shared with him my fondness of these crispy nuggets of deliciousness that I used to devour as a child in Japan. The chicken is marinated in soy sauce, garlic, and ginger, dusted with potato starch, and deep fried… oh gosh, yummers!! My mom used to pack them into my bento box for school field trips!
They're so easy to make too… and Oishii! (Delicious in Japanese)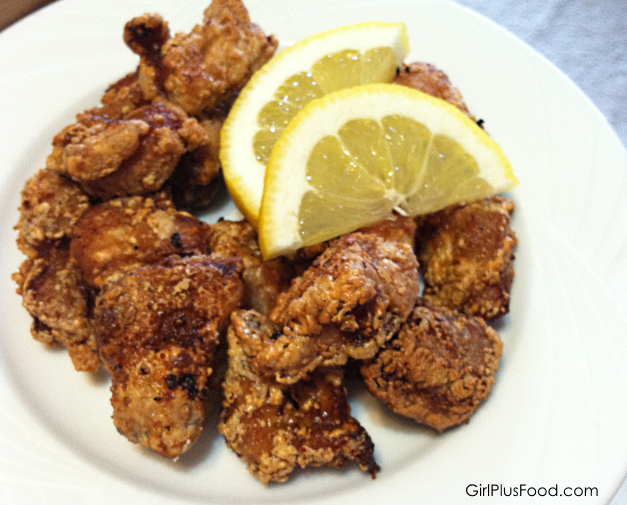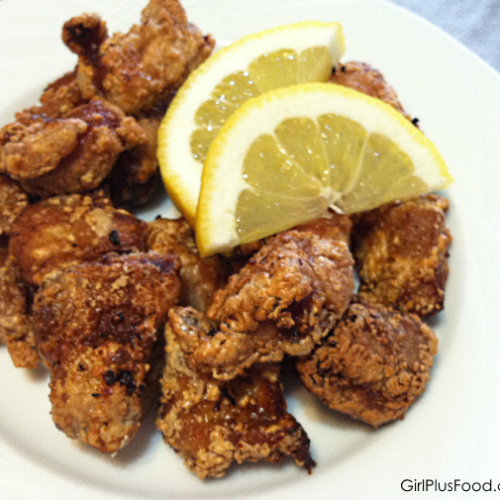 Ingredients
2.5

lbs

boneless chicken thighs

cut into 1 inch, or 2.5 centimeter pieces

2.5

tablespoons

of freshly grated ginger

2.5

cloves

of freshly grated garlic

5

tablespoons

soy sauce

2.5

tablespoons

sake

Japanese rice wine - you can substitute with sherry or white wine

5

teaspoons

granulated sugar

potato starch

to dust

vegetable oil

for frying

lemon

for serving
Instructions
Combine soy sauce, garlic, ginger, sake and sugar in a bowl. Add the chicken pieces and coat evenly. Cover and refrigerate for at least 1 hour.

Add 1 inch of vegetable oil to a pot and heat until the oil reaches 350°F. While waiting for the oil to heat up, line a wire rack with paper towels and put the potato starch in a bowl.

Take the marinating chicken out of the fridge and add a handful of chicken to the potato starch. Toss and coat each piece evenly.

Fry the chicken in small batches (about 5-6 pieces at a time) until it's a medium brown and the chicken is cooked through. Transfer the chicken onto a wire rack to drain the oil. If you want the chicken a little crispier, fry the chicken a second time after it's been cooled off.

Serve with lemon wedges.
Pin it
Share it
Tweet it
They're so crispy and juicy… just how I remembered! It was like I was a little girl in Japan again! Enjoy!!