I was surfing around the web with JRoc showing him some of the Japanese food I used to enjoy as a child. One of the dishes that we came across was "Yakitori"… skewered, grilled chicken.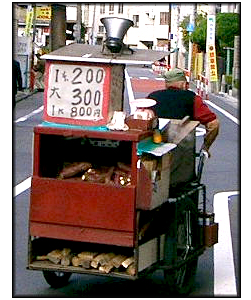 Back when I was just a little bouncy, mochi girl in Japan, this old man would walk through our neighborhood pulling a grilling cart that cooked these delicious things.
And they weren't even the kind of food carts you see today… this was many, many, many, manymanymany, many moons ago, and the carts were… well, really old. lol 🙂
Anyway, we thought it would be pretty awesome if I made us a batch so J could experience a piece of my childhood! There was just one teeny tiny problem… I've NEVER cooked chicken before… in my entire life.
I've been a vegetarian for about 15 years and returned to being a carnivore about 6 years ago. Re-introducing beef & pork was quite easy to do, but for some weird reason, I couldn't get myself to consume poultry again. I have just recently started eating a little bit of chicken, but have yet to cook the darn thing myself.
Anyway, I figured there was no better time than now to get past that obstacle. And the result would be worth it… or at least I hoped it would! And it totally was!! Our yakitori gets 2 thumbs up from us both! … or would that be 4 thumbs up?
Ingredients
1/4

cup

+ 2 tablespoons soy sauce

1/4

cup

+ 2 tablespoons mirin

2

tablespoons

sugar

4

tablespoons

sake

or substitute with unseasoned rice wine vinegar

2

pounds

boneless

skinless chicken thighs. Cut into 1 inch pieces

1

bunch scallions sliced into 1 inch lengths

use both white & pale green parts

About 12 bamboo skewers

soaked in water for 30 minutes (This will help prevent them from completely burning up on the grill.)
Instructions
Whisk 2 tablespoons each: soy sauce, mirin, and sake in a large bowl. Add chicken, toss to coat, and refrigerate for 1 hour.

In a small saucepan, combine remaining 1/4 cup soy sauce, 1/4 cup mirin, and 2 tablespoons each of the sake and sugar. Bring the mixture to a boil, lower the heat, and let it simmer until the glaze is slightly thickened and glossy (about 15 minutes).

Prepare your grill or heat a grill pan to medium high. Lightly oil the grill grate.

Thread 4 chunks of chicken and 3 pieces of scallion onto each skewer, alternating the chicken and scallions.

Grill 10 minutes, or until meat is cooked through, turning every 2 to 3 minutes. Baste with glaze on both sides during the last 3 minutes. Brush with the glaze a second time during the final minute of cooking. Chicken and scallions should be deeply glazed when finished cooking.
Pin it
Share it
Tweet it