We had our very first taste of quinoa just last night, when I made Garlic And Mushroom Quinoa. It totally made a new fan out of both JRoc and me… SOOO FORKIN' GOOD!!!
Next on my list of quinoa recipes that I've collected on Pinterest is the quinoa stuffed bell peppers. The thing is, like mushrooms, I've never cooked bell peppers before… but only because I have an aversion to green bell peppers. (What? It's not like my main source of nutrients came from cookies and nuts… *cough*)
Anyway it turned out Ah-Maaazing! These things are healthy and yummy… and colorful and pretty to boot! And I would've never guessed how sweet red bell peppers are (not a fan of green bell peppers… it's a childhood thing… don't ask. Lol…)!
FYI: I guess one stuffed bell pepper is considered one serving, but we each had 2. 🙂
Enjoy!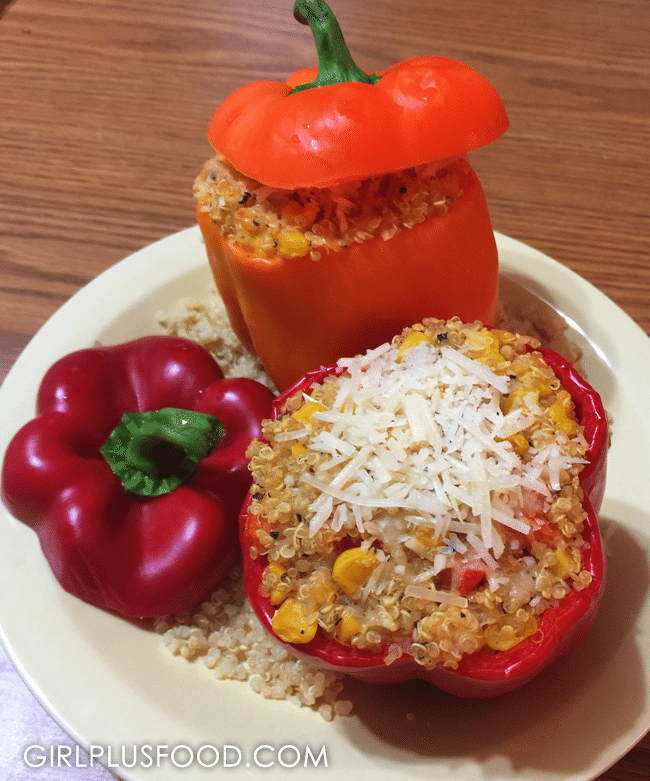 Quinoa Stuffed Bell Peppers Recipe!
Ingredients
3

cups

cooked quinoa

1

cup

corn kernels

1/2

cup

petite diced tomatoes

1/2

cup

shredded extra sharp cheddar cheese

1/4

cup

shredded Parmesan cheese

1/2

cup

chopped parsley

1

teaspoon

garlic powder

1/2

teaspoon

onion powder

Salt and freshly ground black pepper to taste

6

bell peppers

tops cut, stemmed and seeded (I used red and orange bell peppers)
Instructions
Preheat oven to 350 degrees F.

Spray 9×13 baking pan with cooking spray.

Combine quinoa, corn, tomatoes, cheeses, parsley, garlic, and onion. Salt and pepper to taste.

Fill each each bell pepper with quinoa mixture. Gently pack it down to make certain each pepper is full.

Arrange them upright on prepared baking pan and bake until the peppers are tender. About 25-30 minutes.

Garnish with more shredded cheese and serve immediately.