We always, always stock up on eggs. But as much as we buy… they always go so… freakin… fast.
I mean, you can do SO MUCH with them… cook, bake, add to smoothies, and have them on their own! But I wanted to try something a little different… and here it is. Eggs in clouds! (Omg… aren't they the CUTEST?!!! *squeee!*)
The whites are whipped (reminds me of cloud bread) and the eggs are then baked, making a quick & yummy breakfast!
For this one, I only folded some parm into the whites… but you can add bacon, chives, and whatever else you love into it before baking! Try it!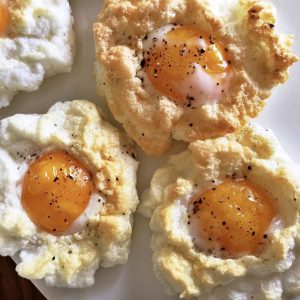 Ingredients
4

eggs

1/2

tsp

cream of tartar

1/4

cup

grated parmesan

or use your favorite cheese

1/4

cup

chopped chives

optional

1/4

cup

crumbled bacon

optional
Instructions
Preheat oven to 450° and grease a large baking sheet with cooking spray.

Separate egg whites and yolks, placing egg whites in a large bowl and yolks (careful not to break them!) in a separate bowl.

Add cream of tartar to egg whites and beat until stiff peaks form, 3 minutes. Gently fold in Parmesan and season with salt and pepper.

Spoon 8 scoops of egg whites to prepared baking sheet and indent centers to form nests. Bake until lightly golden, about 3 minutes.

Carefully spoon 1 egg yolk into center of each nest and season with salt and pepper. Bake until yolks are just set, about 3 minutes more.

Sprinkle with pepper. Serve immediately!
Pin it
Share it
Tweet it