Today's foodie trivia: Sushi is NOT raw fish, but the serving of vinegared rice with other ingredients, which may or may not include raw fish.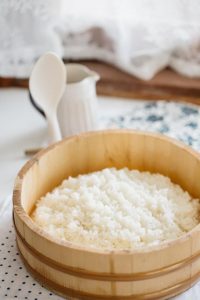 Ingredients:
2 cups freshly cooked rice (sushi or short grain)
2 tablespoons rice vinegar
2 tablespoons sugar
1 teaspoon kosher salt
Instructions:
Combine rice vinegar, sugar and salt in a small bowl and heat in microwave on high for 30 to 45 seconds.
Transfer rice into large mixing bowl and add vinegar mixture.
Fold thoroughly to combine and coat each grain of rice with the mixture.
Allow to cool to room temperature before using.
[sc name="igcta"]