Mmmmm.  Warm… chocolaty… flaky…
Here's how to make it at home…
Start with 1 package of of ready made croissant dough (the ones you find in the refrigerated section), and 1 package of semi-sweet chocolate chips Heat oven to 350 degrees…
Follow package opening directions… then take out and separate the dough (into triangles).
Arrange a layer of chocolate chips on the dough triangles…

Follow package directions for rolling the dough into crescent shapes… I purchased a package of 8 rolls.  Bake for 11-13 minutes or until golden brown.
This is the finished product… so Flaky and Buttery… and as you can see, stuffed with Melted Chocolate! Yum!  Of course, you can add as much or as little chocolate as you want!  Try peanut butter or white chocolate chips too!
Here's how it was served…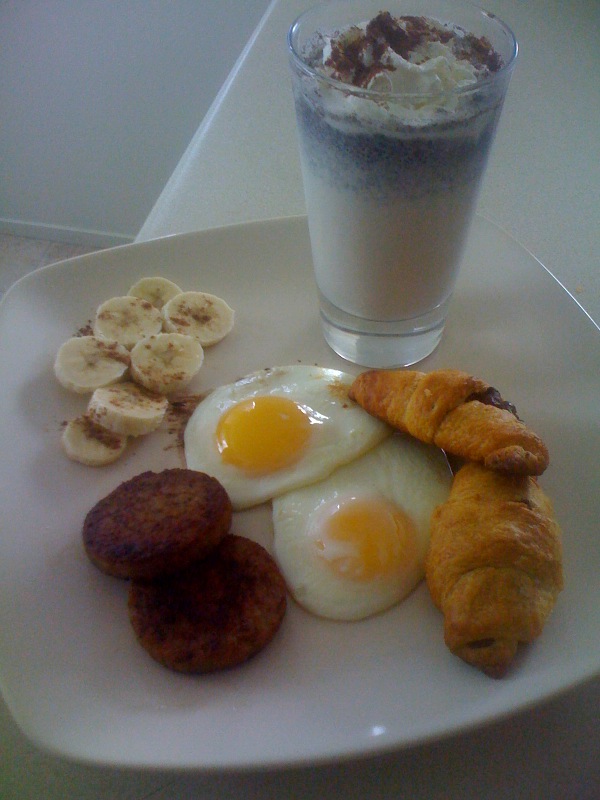 Chocolate Chip Croissants, Sausages, Eggs, Cocoa Powder dusted Bananas,
and Homemade Cookies & Cream Milkshake!
What prompted this mini breakfast treat?  I asked J if he wanted get breakfast at Sonic or Jack In the Box because I found some buy-1 get 1 free coupons… he looked a little hesitant, and eventually confessed, "Mommy, those places are okay, but, I think YOU make the best food ever.  Your cooking is my favorite."
So there you go… =)