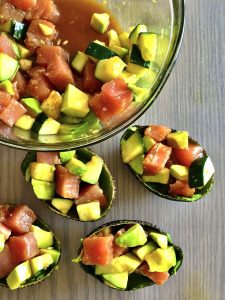 So I finally stepped out of my comfort zone and created my very first IGTV video! Joshua even bought me a freakin tripod to get this done!
Ingredients:
1/2 lb Ahi Tuna cut into small cubes
3/4 cup cucumber cut into cubes
1/4 cup soysauce
1 tsp rice vinegar
1/2 tsp sesame oil
2 tsp grated ginger
Still playing around with this, so it can only get better! lol… Thank you for watching!
Ready?
View this post on Instagram
[sc name="igcta"]